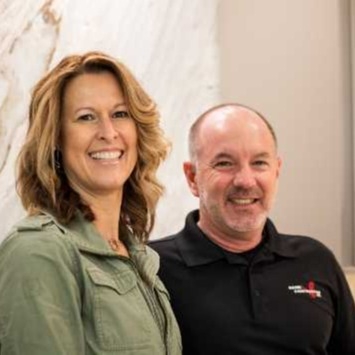 What sets us Apart from the Rest?
"Message from the Susie & Jim"
We are thrilled to have the opportunity to work with you and your family and look forward to reinventing your space and changing the way you live in your home for years to come. We are so appreciative of the time we spend getting to know you and working within our community.

Susie and I have long dreamed of owning our own business. Remarkably, we both dreamt of being Architects at a young age and have renovated multiple homes over the course of our twenty five year marriage. Over the years our friends have watched us remove walks, cover pink paint, and rip out green shag carpet. As children of small business owners we watched them develop a strong understanding of their industry and the determination it takes to work for yourself Somewhere in the back of our minds, we knew we would give it a try, but raising a family came first.
My career in the construction industry began age 14 when I was unceremoniously dropped off at a job-site and told to grab a shovel and start digging, eventually getting a degree in Construction Management from the University of Nebraska-Lincoln and staying active in the construction industry
throughout my career in which I have had the opportunity to work in the field and office both estimating and managing projects.
We planted our roots here in Colorado in 2012. After working in Heavy Civil a few years in Colorado, some self reflection and a chance encounter with Dave Hawk, the stars aligned and an opportunity to grow in the residential contracting market presented itself.
We met in 1990 while attending college. While I was pursuing my degree in Construction Management Susie got her Bachelors Degree in Advertising. We eventually moved to Phoenix for several years and finally landed in Denver in 2012 with our three children. It so happened that I found myself working on a volunteer project in the neighborhood and I happened to meet Dave Hawk and we hit it off. One thing lead to another and I ended up working as the General Manager for Hawk Construction with Susie coming on board shortly thereafter to bring her management and advertising skillset to the team
helping us grow to completing over sixty remodeling projects a year.
Susie and I both get a great deal of personal satisfaction sharing our experiences working to change the way people live in their homes. Thus, in the past year we purchased Hawk Construction, Inc.
Best Regards,
Jim & Susie Poggemeyer
Owners